Strona 1 z 2
The Language Centre of the Lodz University of Technology is a place where we do not only teach students, but we also learn from one another. We place great emphasis on the need for continuous professional development. Our staff consists of qualified examiners, methodology experts and language enthusiasts. We also invite external guests who help us gain valuable experience and allow us to look at our teaching process from a new perspective. Below you will find the most interesting of our in-house training courses.
Team Building - 6 April 2019
A well-managed and supporting team is the foundation of the success of each institution. Good relations and mutual respect are necessary to jointly implement the company's strategy. Each employee has different skills and knowledge, that is why it is so important to fully use the potential of each of them by supporting each other at the same time. Authorities of the Language Center of Lodz University of Technology understand these assumptions perfectly well, thus on April 6, 2019, the employees of the administrative department were trained on the differences in the team and using their potential in communication and building good relationships.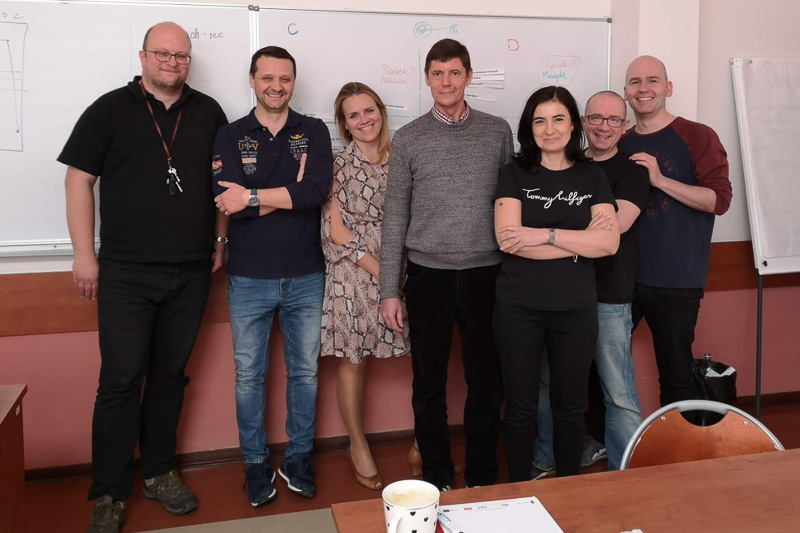 Effective vocabulary teaching - 19 March 2019
Trainer - Marta Rosińska (Macmillan)
Practical training led by Marta Rosinska, entitled: "Effective Vocabulary Teaching".
The session was a mixture of reflecting on and practicing in-depth vocabulary teaching in a foreign language. We looked at what kind of vocabulary is worth teaching and how to teach more effectively in order to increase the retention of learned vocabulary items. The exercises and practical examples proposed by the trainer concerned the deep processing of vocabulary and the use of lexis in different contexts.
Business Partner - 5 March 2019
Trainer - Bartłomiej Janiak (Pearson)
On 5 March 2019 a training for members of the didactic team, led by Bartłomiej Janiak from Pearson company, took place. The aim of the training was to familiarize the team with the latest handbook: Pearson Business Partner. It concerned the content of the above mentioned proposal and additional materials accompanying it. The meeting helped the teaching team to prepare a list of items taken into account in the new curriculum changes.
Taming MS Word (part 2) - 4 December 2018
Trainer - lic. Piotr Masłocha (CJ PŁ)
The second part of the practical training on text formatting - an extremely useful skill when creating tests, exams and working with a text document.
WIKAMP - interactive tests and quizzes - 27 Novemebr 2018
Trainer - mgr Łukasz Wodarczyk (CJ PŁ)
Training organized for the staff by the e-learning team on how to create interactive tests and quizzes with the use of internal tools available on the WIKAMP platform. During the training, the ways of creating tests were discussed: multiple choice, truth/false, matching, etc.
Edpuzzle - 27 November 2018
Trainer - mgr Danuta Król-Stogidis (CJ PŁ)
Edpuzzle is a convenient tool for creating interactive films. Choosing a film - from the database of available films from both lexical and grammatical topics, we can customize it to your needs by selecting the appropriate fragment, adding to it our own soundtrack, notes or questions in the form of a quiz (open-ended and multiple-choice questions). Edpuzzle helps you to listen to the language. Indisposable if you want to conduct classes using the flipped classroom method.
Taming MS Word (part 1) - 20 November 2018
Trainer - lic. Piotr Masłocha (CJ PŁ)
Practical training in text formatting - an extremely useful skill when creating tests, exams and working with text documents.
Films and videos - a support for a teacher - 13 November 2018
Trainer- mgr Wioleta Fabijańska (CJ PŁ)
In today's world, a significant part of communication takes place with the use of technology and with the use of image and sound. Modern teaching of a foreign language cannot, therefore, exclude an audio-visual medium in the form of videos, films or viral videos. During the workshop, practical ideas for their use in foreign language learning were presented, as well as examples of the use of film material at different stages of the lesson to develop a number of skills. An important element was a database of sources of ready-made educational materials, which are worth adding to the teaching process.
Kahoot interactive tool for lexical-grammatical exercises - 13 November 2018
Trainer - mgr Łukasz Wodarczyk (CJ PŁ)
Kahoot is an interactive tool for lexical-grammatical exercises. During the workshop we got acquainted with a friendly internet tool, which increases the competitiveness and motivation of students. Kahoot is a huge database of ready-made quizzes and provides the ability to create new ones for in-house purposes. A smartphone with Internet access is in fact the only hardware requirement to make foreign language classes more attractive.
Creative Lecturer Workshop - 6 November 2018
Trainer - mgr Mariola Hejduk (CJ PŁ)
The aim of the workshop was to present several creative methods of involving students in classes using small props. Each prop was discussed in terms of its advantages and disadvantages, and examples of how to use it were presented. As you can see, the training featured beach football, ice cream sticks, markers and laminated cards, but the greatest interest was aroused by meat pestle and a 'mysterious object' hidden in the room.